Welcome to the online home of UncommonMan.org , an organization dedicated to helping todays Christian man live a life of integrity and truth.
Why are seeking to make the Uncommon Man?
Remember when you were a kid? Do you remember your dreams and ambitions? You wanted to be a fireman, or a policemen, or an astronaut... you wanted to be something special.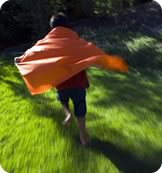 Every young boy did this... do you remember running around the house, a dish towel tied around your neck, hands outstretched in front of you... you were a super hero! You could fly, see through walls, had super powers and extraordinary strength. None of us had aspirations to be ordinary, run of the mill, everyday Joe's. We all had a vision to be something special, different... someone uncommon.

Believe it or not, we still can be that extraordinary man, who saves lives, changes the future, and rescues the hurt and broken. We don't need to settle for ordinary, mundane. We can break the mold, and become..

The Uncommon Man

So break out your cape, decide to break the mold of the mundane, and together let's journey into a strange and amazing place... a place where we decide the outcome. The world that we create and mold. The world of the Uncommon Man.
Like us on FACEBOOK here!