UncommonMan.org is the product of years of ministry by Wayne Carter, a husband, father, employee, musician... in other words, a guy, just like you.
Wayne had written for years; sometimes devotional material, sometimes worship or performance music, sometimes humorous works based on his life experiences. Always these writings were works of his heart, his life penned for others to read, share, and remember, "Yeah, I felt that way too"...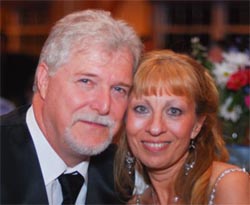 Uncommonman.org grew out of a devotional series written through some of the most tumlultuous times of his life, a time when his professional, home, and church life seemed to come crashing down, creating financial chaos, relational difficulty, and personal introspection. The words penned in the online devotional books, "Building the Uncommon Man", "Becoming an Uncommon Man", and Face 2 Face Worship" are the result of years of writings, wrestling, wrenching, and restrospectives.

Wayne is married to his wife of 34 years, Connie, the light of his life, and inspiration for most of these writings. Without her steadfast love and support... and extreme patience... Wayne's life could surely have taken some dubious and debilitating turns. Indeed, it was an Uncommon Wife who helped to forge this steeled marriage, and inspire a changed life and re-created heart. Together they have five amazing children, serve and work together, and seek to find the peace of God in their home and love.